September 23, 2018
Baseball Card Case Review – Archival Quality Storage for your Trading Cards
Product: Pro Box Baseball Card Case
 Review
Price: $15.99
Place to Buy:
Size of Container: 5-1/4″ x 14-1/2″ x 3″ h
Amount of cards it holds: 800
My Rating: 9.5 out of 10
---
The Pro Box Baseball Card Case, Product Overview
Most people store their trading cards in corrugated cardboard storage boxes that come in various sizes that hold up to a couple hundred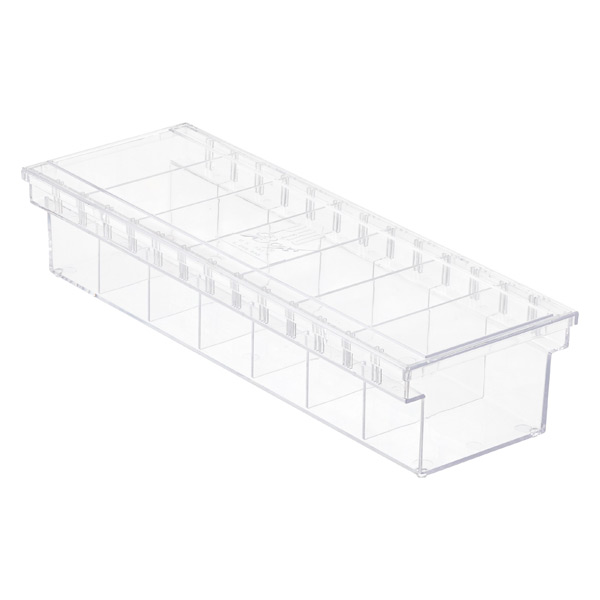 cards to a few thousand cards. I, myself, am a big fan of these cardboard storage boxes because they are cheap, they come in various sizes, they hold sleeved cards and they do a good job at providing the protection I need for my trading cards over very long periods of time (i.e. years if stored under temperature controlled conditions and not in a place where it could get damaged, like on the floor in the garage).
However, I do like a higher quality trading card storage box or case from time to time for select groups of cards. I happened to be shopping in the Container Store one day and came across this plastic baseball card case. It is not a cheap, thin quality plastic case either; rather, it's really solid and durable plastic. It is 5-1/4″ x 14-1/2″ x 3″ h, archival quality and acid free. It includes six dividers and comes with a thick top lid / cover that is easy to take off and on.
---
An Example of How to Use the Baseball Card Case
I decided to use this case for my basketball cards, for which I had three distinct groups: Michael Jordan cards (probably close to 300 or so), my vintage basketball cards (prior to 1980) and my modern day other good player's cards (e.g. Allen Iverson, Kobe Bryant, Lebron James, etc). First, I put all of my cards into penny sleeves (Ultra Pro 2-5/8″ x 3-5/8″) and then I placed the cards into the card case. I used 3 of the plastic dividers (out of the 6 plastic dividers that came with the case).
I liked the box so much that I went out and bought two more for myself and also one for my son so that he could use it for his collection of Pokemon cards and Marvel cards, which also fit nicely into the case.
---
What I Like About the Pro Box Baseball Card Case
I really like that I am able to easily organize and segregate my cards into distinct sections using the plastic dividers. There are little slots that the plastic dividers slip into, but they don't necessarily need to go into those little slots. After you put your cards in, if you find that segment of the box to be too tight for your select group of cards, then just put the divider behind your last card but not into one of the designated slots. The slots are 3/4 of an inch apart, so this will still do the job of keeping your cards in place and will give a bit more flex room for your cards.
I also really like that the case is clear allowing you to see your entire card collection from all angles. I think this is really cool and different compared to most other card cases / boxes out there on the market. I didn't realize this at first, but the effect that this has had on me personally is that it has elevated my appreciation for my personal collection ("pc"). In the end, if your collection is in boxes where you can't see them and show them off, then how can you appreciate them?
The box is also small enough to easily carry with you if you need to transport your cards from one place to another…or if you're like me and you want to bring your cards into work to show off to your friends, then this case is a great way to transport and display your collection. The lid fits snugly on top too to give you the confidence that your collection is 100% protected.
Another very important, even essential, consideration for me when it comes to trading card storage cases / boxes is will it fit "sleeved" cards into them? As noted in my previous posts, the first thing that I do with cards that have any value at all is to put them into penny sleeves (Ultra Pro 2-5/8″ x 3-5/8″) as a first essential level of protection. As you can see from the picture above, this case is wide enough to allow for sleeved cards.
Lastly, as mentioned in the second paragraph above, the plastic is a very durable and solid plastic. You can tell this from the moment you pick it up due to the weight of it. Being able to put your collection into a quality archival case such as this one again can add to your overall appreciation of your card personal collection.
---
What I Don't Like About the Pro Box Baseball Card Case
There are only a couple of minor drawbacks about this baseball card case that I'd like to note. First, as you'll notice in the above picture and to the side, the cards are slightly at an angle (i.e. not sitting squarely at perfect 90 degree angles within the box). Given that I have a preference for the Ultra Pro 2-5/8″ x 3-5/8″ penny sleeves, these sleeves are a hair too tall to fit
perfectly square within the case. Technically, I could get them to sit square within the case, but that would mean applying a small amount of force, which would result in a slight bend to the tops of the penny sleeves. I am very anal about my cards and my collection and therefore, I do not want the tops of my penny sleeves to be bent by any degree whatsoever. The other option would be to purchase penny sleeves that are not as tall so that they would fit perfectly square within the case.
The other minor drawback that I'd like to mention is that the plastic dividers can sometimes stick within their slots, so you if this happens and you have to apply a little force to pull them out, you just want to be careful that you don't damage your cards in the process.
---
Overall Rating
In summary, I really like this Baseball Card Case
. I give it a 9.5 out of 10 rating. Again, if you are looking for a high quality case that will allow you to store and appreciate your card collection for many, many years, whether they be sports cards, Pokemon cards, Marvel cards, etc, then this is a case that I would recommend. The price tag is a bit more than you would pay for your standard corrugated cardboard boxes, but you are definitely getting your money's worth in terms of quality, display and appreciation factors.
I always welcome feedback, so if you have anything questions, comments or if you yourself have even used this case, then I would very much like to hear from you in the below comment section.